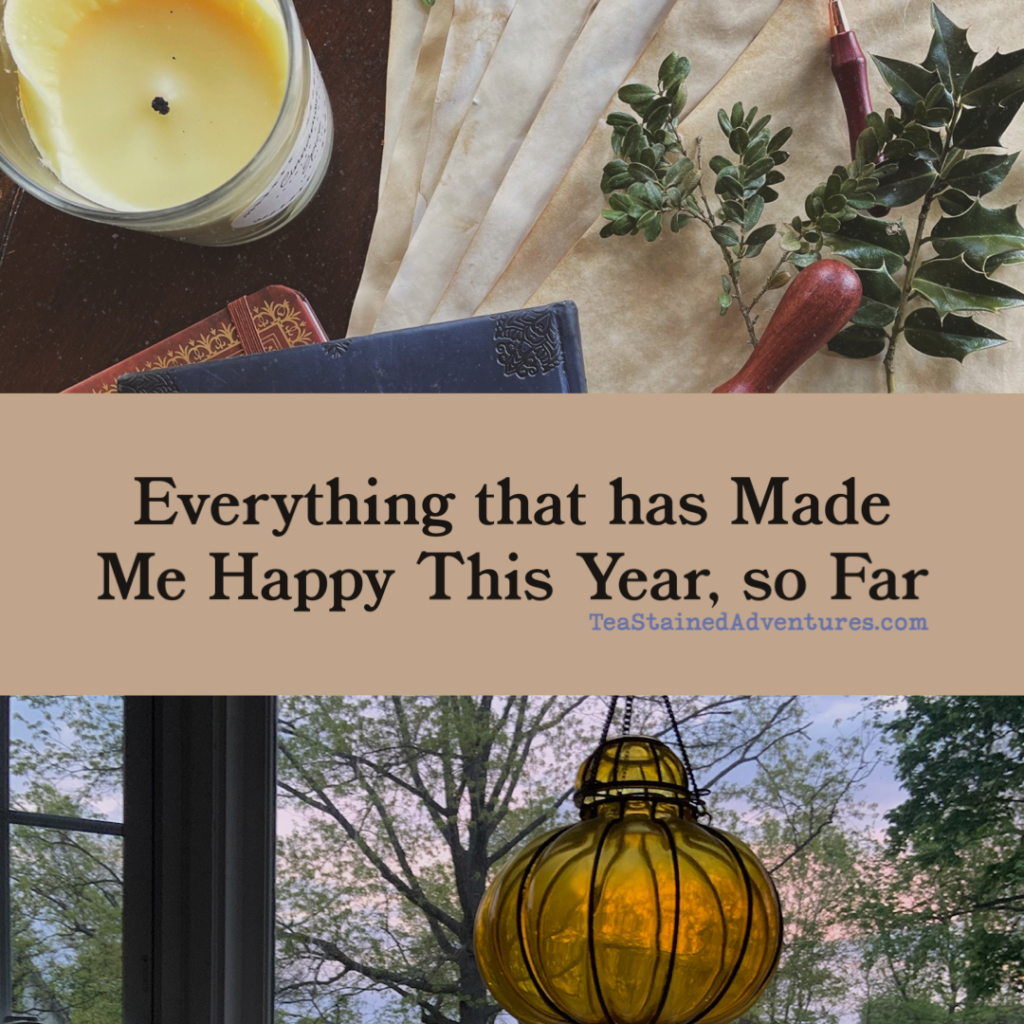 I'm a believer in the small wonders, the mundane-yet-beautiful things hidden in tiny pockets of life. Nonetheless, I've been quiet on this blog because not everything is simple, no matter how many lovely things there are in life, there are also a handful of hardships. My health hasn't been too great lately, so it's hard to be as organized as I'd like to be.
A while back, when my health was slightly better than it is now, I wandered into the book section of Goodwill. I shifted through the 50 cent paperbacks, putting way more titles than I needed into my cart. I stumbled upon a book that made me stop for a second. 14,000 Things to be Happy About by Barbara Ann Kipfer.
Reader, I purchased it.
14,000 Things to be Happy About is exactly what it sounds like. Every page is filled with tiny things to be happy about. From "old-time radio shows" to "beginning a journal in a blank book" to "whales." The author introduces her book this way:
This book represents 20 years of recording all the little things that make me happy. Beginning in the sixth grade with a tiny spiral notebook, I graduated to larger notebooks and finally to a personal computer that today contains more than a million bytes worth of word-pictures. Words, and the images they create, can be a great source of pleasure and inspiration. Sometimes, on a gray day, I flip through this collection to cheer myself up; often I use it to get ideas about what to cook for dinner or something fun to do with my son on the weekend.
I don't know about anyone else, but I would love to be like Barbara Ann Kipfer. I'd love to master the art of happiness within gratitude and the art of learning to notice the little sparks of joy every single day. At the turning of the year, during days of low health and high stress, I decided it was my time to start. I pulled out a burned-orange notebook and began documenting every little thing that made me happy. I named the notebook "Cordelia" as tribute to the optimistic outlook of Anne from L.M. Montgomery's Anne of Green Gables.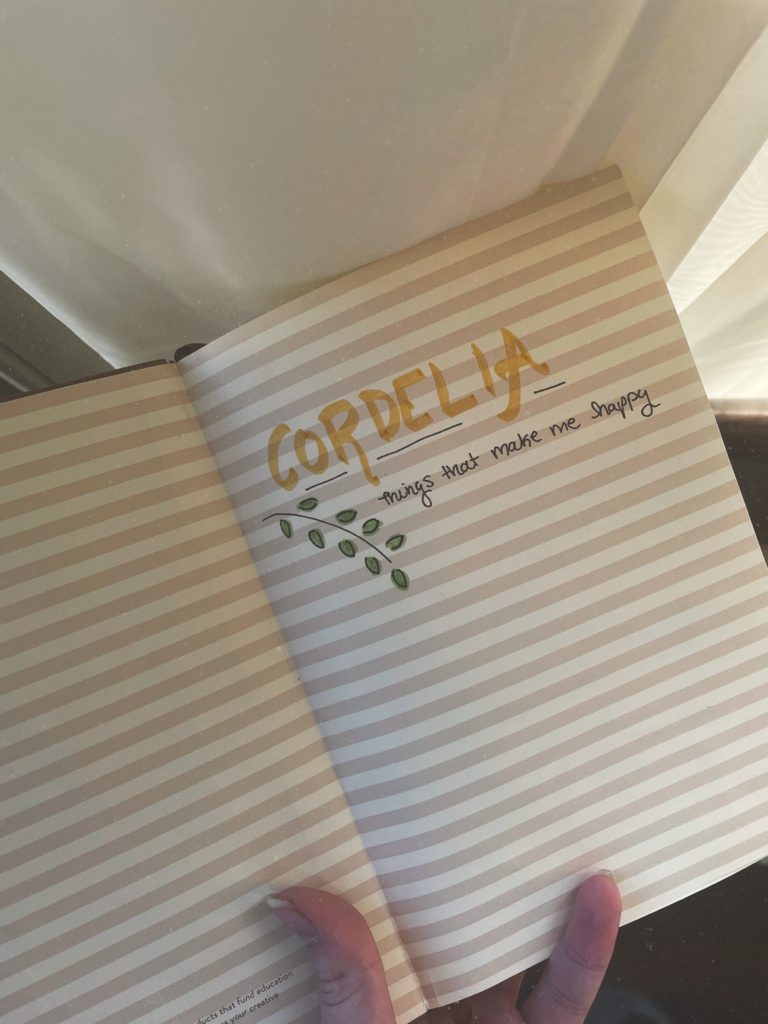 I thought I'd make it a tradition to transcribe these things at the start of every month and post it here. It's already a couple of months into the year, so this list will be a bit longer than any future posts of the same sort. But, in conclusion, here are all the many things that have made me happy this year so far.
Hot cocoa
Thrift stores
Used books that were written in
Ukuleles
Icicles stuck to houses
The patterns on snowflakes
Antique shops
Cute little teacups
Aspiring writers who get excited when talking about their WIP
Pretty notebooks
The smell of books
Online events
Puns
Sunrises
Record players
Wax seals
Ferns
Pinecones
The green shade of sage
Shoeboxes
Embroidery
Origami
Comments on my blog posts
Cute aprons
Acquaintances remembering my name
Whipped Cream
Cats kneading
Packages on my doorstep
Victorian houses
Herbs
Puffy cumulus clouds
Getting lost in music
Anne of Green Gables
Sitcoms
Baby name websites
Hearing stories from the elderly
Hank Green
Sunset yellow
Watercolour paintings
Bookmarks
Indie folk music
Mitski
Filling out planners and calendars
Goats
Fruit smoothies
When someone likes the same book as me
Unexpected gifts
The Enneagram
Fireplaces
Multicoloured highlighters
Dimples
Clean fanfiction
Disposable cameras
Constellations
Card games
Rabbit sniffles
Noises that goats make
Making new friends
Hair dye
Caramel-flavoured coffee
Fantasy worlds
Cute conversations between newlyweds
The colour brunette in my hair
Names and their meanings
People telling me funny stories
Unconditional, hardworking love
Kettle corn
Bathrooms with blue walls
Old farmhouses
Cute names for animals
Mary Poppins
The feeling after finishing a book
Owl City
Polaroid pictures
Beams of sunlight through windows
Starting university
Watching plays
Philosophical questions
My dad's dumb jokes
People opening gifts on their birthdays
Quirky history professors
Mac and cheese
People praying for me
Waking up to snowfall
Large, fluffy snowflakes
When snow outlines tree branches
Saying "fnow" instead of "snow"
World maps
My mom's hugs
Watching puppies grow up
When cats brush up against people
Counting down the days to an exciting event
Pressing the "submit" button on an online assignment
Vincent van Gogh
Recordings of faraway forests
Petting my dog on his belly
My dad, enjoying his Christmas gift
New York Times crossword puzzles
Writing poetry
Foreign words with beautiful meanings
Saoirse Ronan in Little Women
Watching people play in the snow
Snowmen mysteriously appearing on the sidewalk
Chocolate chip pancakes
Lovers on Valentine's day
People saying "I appreciate you."
Short films
Spontaneous Facetime calls
Vanilla sugar cookies
Tab Murphy
Doofensmirtz Evil Inc.
Weighted blankets
Freddy Carter + Kit Young + Amita Suman
Getting excited for upcoming TV shows
Pizza
Wintery drives with frost-covered trees
Green-painted cabinets
Lavender
Chickadees
Mobility aids
PicCrew
Piano jazz
Romans 8
Campfires
When people blush
Postcards
Being productive
When friends accomplish big things
Short stories
Story plotting tools
Quirky typography
Pictures from childhood
My embarrassing blog from middle school
Sentimental mugs
New "sparks" of ideas
David Bowie
Tulips
Aeroplanes
The "u" in favourite
The word "serendipity"
The sound of crackling fire
Paul Simon
Evenings with family
House Hunters: Comedians on Couches
Mornings when I feel fresh
Reflections in water
Tea kettles
Knitting circles
"Grandma" crafts
Clive Wearing's love story
New film/TV trailers!
Swing music
Dogs comforting people when they're sad
Keep wandering,

TALK TO ME! Comments make my day. What are your thoughts? What are some things that have made you happy lately?