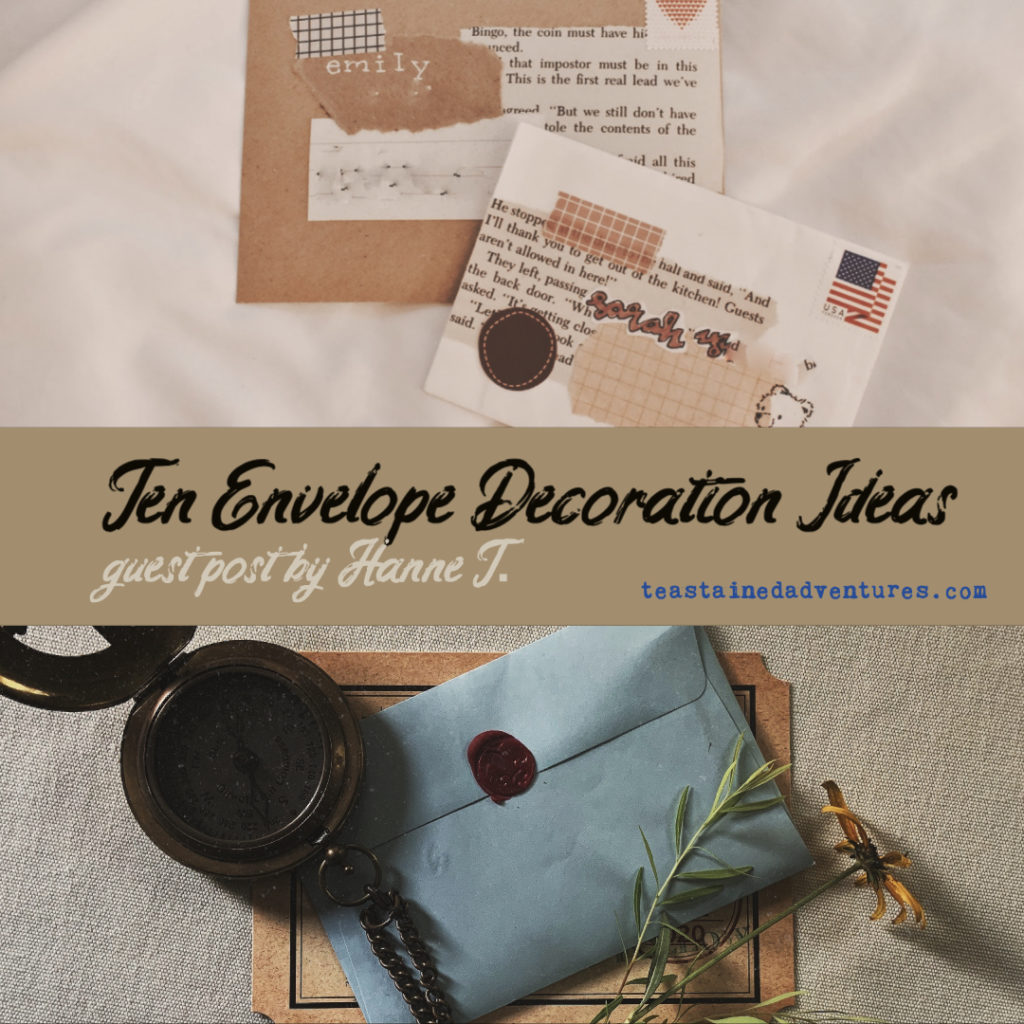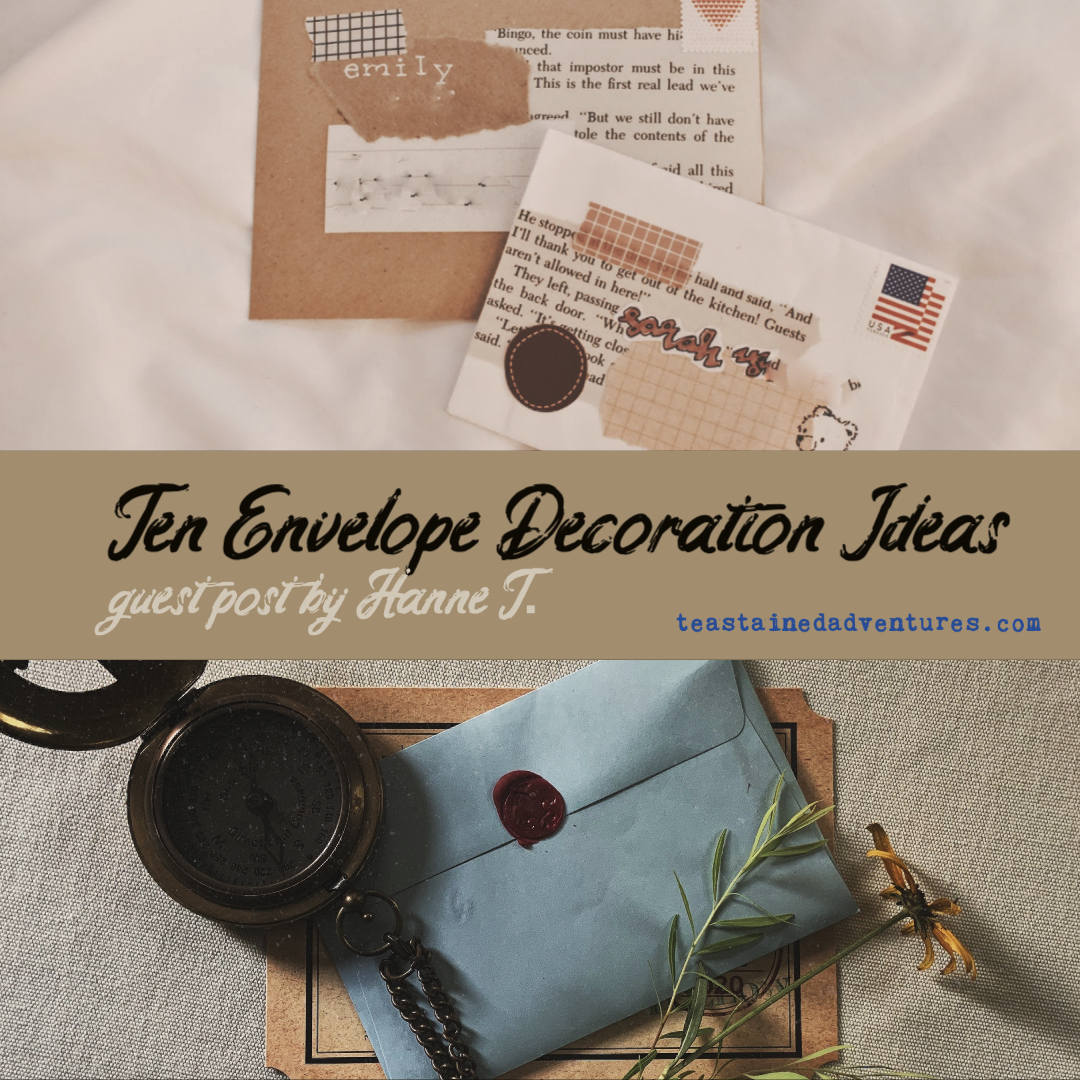 Note from Sophia: Hello, fellow adventurers! Today, we have a guest post from Hanne T. about different ways to decorate envelopes. I'm super excited!
Hey everyone! I'm super excited to be hopping on Sophia's blog today to share a blog post with you to celebrate its relaunch! 
If you don't know me, I'm Hanne! I blog over at Losing the Busyness, and I also do some other stuff on the side, like my YouTube channel and art shop! I'm also a huge fan of writing letters: I just think they are so fun, and such a great way to "physically" connect with people that you've only ever met online. 
I only really got into writing letters over quarantine, and one of my favorite parts about letter writing is decorating the envelopes! There are just so many ways to do it, and it is so fun to see what materials and colors work well together. You also don't need to have a ton of craft supplies to make a pretty envelope, and it's super fun to experiment with!
Today, I will be sharing 10 ways to decorate envelopes!
1. Washi tape! Washi tape is a really fun and easy way to add colors/patterns to anything, but especially envelopes!
2. Stickers/rub on stickers! They are an especially easy way to add a theme to your envelope: sticker packs are a nice way to get a coherent theme without having to mix and match supplies.
3. Scrapbook paper is a super-easy way to add a lot of texture to your envelope. There are a ton of patterns to choose from and they are super fun!
4. Kraft paper. Kraft paper is pretty much fancy scrapbook paper, but I use it way more than scrapbook paper. I usually tend to go for a neutral color palette, and craft paper is just perfect for that.

5. Pages from old books. Now don't get me wrong. I LOOOOOVE my books, but I have a couple books that are really old and don't actually have meaning to me, and I love to cut those up and use pages on envelopes! Books are just SO AESTHETIC and I love how it looks!
6. Old sheet music. If you're a musician like me, you always have stacks of old music laying around the house. Music sheets are so aesthetic and I love how they look on envelopes!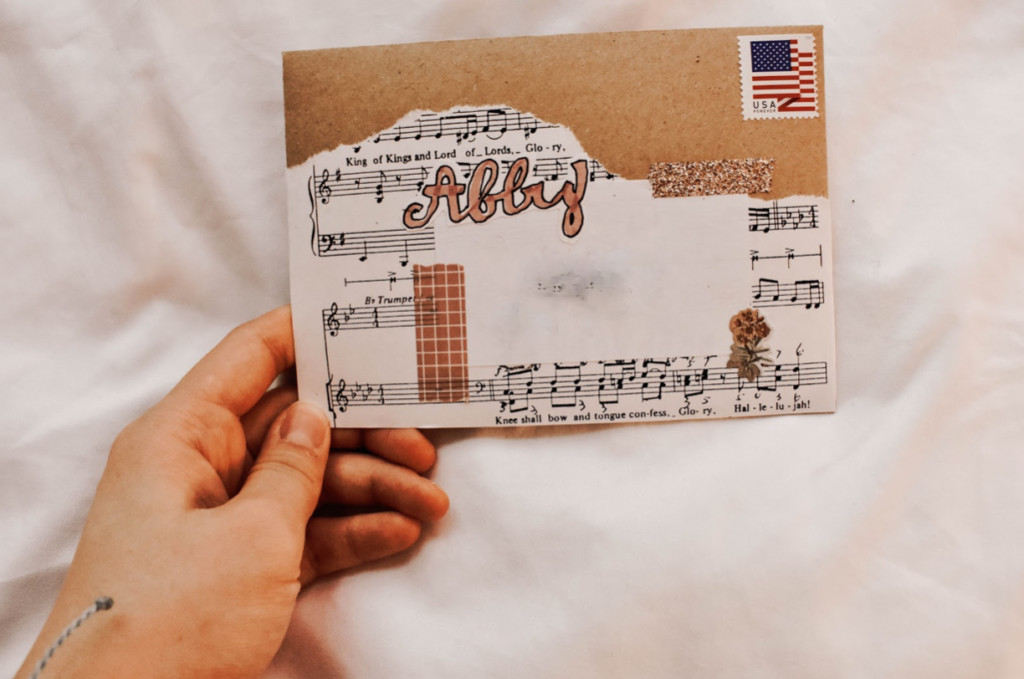 7. Gift tags. Gift tags have lots of fun patterns and designs on them, and they can also double as the place to write the address if you want!
8. Fun fonts. These are a little bit trickier to do, but they are a great way to add some personality to your envelope! I had to blur out this address but I used three fonts to address this envelope, and I really like how it turned out! There are a lot of font samplers on Pinterest, which is where I learned all the fonts that I write with 🙂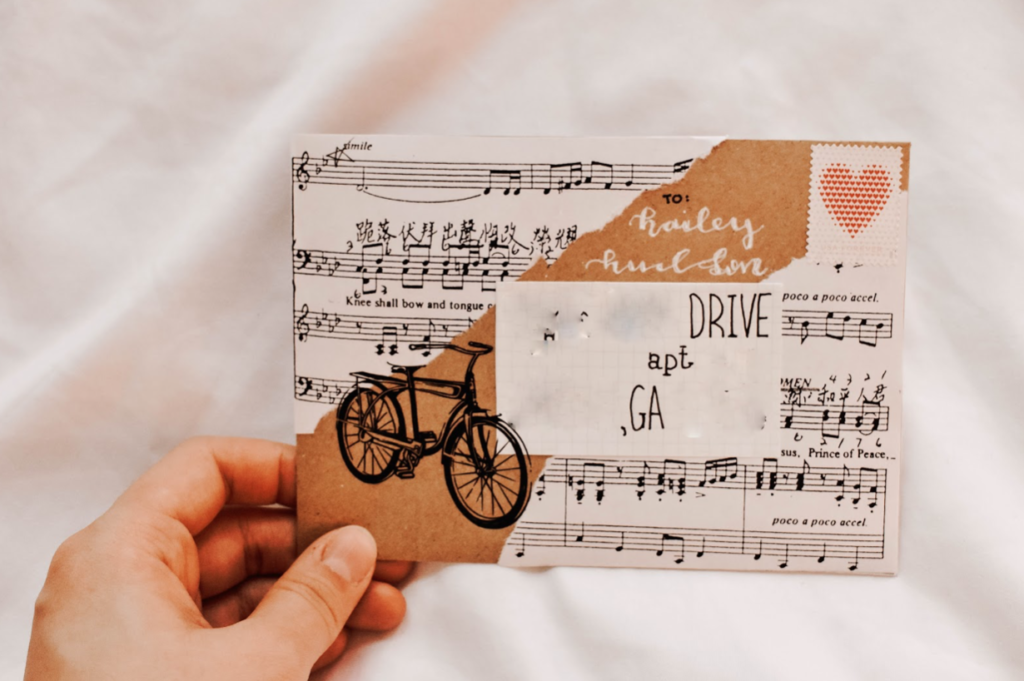 9. "Bubble" font. If you spend any time in the pen pal/letter writing areas of social media, you'll see lots of people using this outlined way to write the recipient's name. First, write the word you want in script with a marker/brush pen, then trace around it with a black pen/fineliner, then cut around the whole thing, leaving a little border. I think it looks so cute!
10. Mix and match! Like you've been seeing in these photos, a mix of all of these things can be used to create a coherent look! I generally pick a set of supplies that has the textures I want (such as coarse kraft paper, grid paper, and a black and white sticker), then pick colors that complement them! Don't worry if some of your envelopes don't turn out perfect . . . I've definitely had my share of poorly decorated envelopes: for example, this is one that I wasn't super happy about. The colors are all pretty coherent, but the textures kind of clash, and it's just too busy for me. But it still looks cute, and practice makes perfect!
So those are some of my favorite ways to decorate envelopes! Do you like writing letters? What is your favorite craft supply?
Thank you to Sophia for having me on her blog today! It was super fun, and I'm super excited to see where this blog goes! Make sure to check out my blog for a fun Pen Pal With Me post that is going up today as well! 🙂
Hanne is a college student studying biology during the day, and a lifestyle and book blogger at night. She is passionate about getting the word about people's books out into the world, as well as making time to do the things that you love. To this end, she also bookstagrams, bullet journals, and drinks too much coffee. You can find her everywhere @HanneasinHannah (Facebook, Twitter, Instagram, Pinterest) and her blog at losingthebusyness.wordpress.com.
P.S. if you're running low on stamps, I'm running a promotion over on my art shop where you get a free art print with proof of purchase of a book of stamps! Go check it out. 🙂
Note from Sophia: Thank you, Hanne, for coming on my blog today with such a lovely post! To my readers—definitely check out her blog or art shop while you're here. Keep wandering!